Joy of Discovery Ministries
"Helping others to discover what the original author meant by what he said."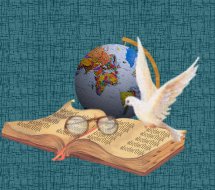 "Your words were found, and I ate them,
And your word was to me the joy and rejoicing of my heart..."(Jer.15:16).

Featured Articles
"...Ezra had prepared his heart to seek the Law of the Lord, and to do it, and to teach statutes and ordinances in Israel" (Ezra 7:10).

Speaking Itinerary

Mission Statement
The mission of Joy of Discovery Ministries is to cultivate a passion for discovering what the original biblical author meant by what he said in as many people as the Lord will allow. We exist also to expose pastors and churches to the biblical and historical faith of Baptists on God's sovereignty and related doctrines.


Great is Thy Faithfulness
Words & Music © 1923, renewal 1951 by Hope Publishing Co., Carol Stream, IL 60188.
All rights reserved. Used by permission (June@Hopepublising.com)
Reproduction of this hymn must be obtained directly from Hope Publishing Co.
at www.hopepublishing.com or by phoning 1-800-323-1049.